Clergy and lay leaders, experiencing both too much and too little change, are searching for ways to understand their role, nurture their community, and take care of their personal well-being. In this extraordinary time, you may be among leaders who are seeking wisdom, community, and courage.
As a community, the church serves as leader by "caring for persons, the more able and the less able serving each other…" As an institution, the church is a servant-leader in so far as it models being a serving institution and supports persons in servant-leadership roles in every kind of institution. (Servant Leadership by Robert K. Greenleaf)
Recently, the cost of commitment to this leadership has been particularly high.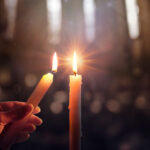 What inspires your leadership?
Are you coping with too much change or frustrated by too little change?
What losses have you suffered?
What do you need?
Coaching conversations inspire and equip us to discover ourselves, to clarify our intentions, and to design strategies for moving forward. 
As your coach, I assist you to define and create a practice of leadership which honours God's call to you as both leader and person, a practice of ministry which advances faithful service and personal wholeness. 
More information on coaching may be found on this website at About Coaching.
Please contact me to explore how a coaching relationship may serve you and your servant-leadership.